From Brexit to the demise of feminism, lets take a few moments to consider and toast all that has made this year impossible to forget (much as wed like to)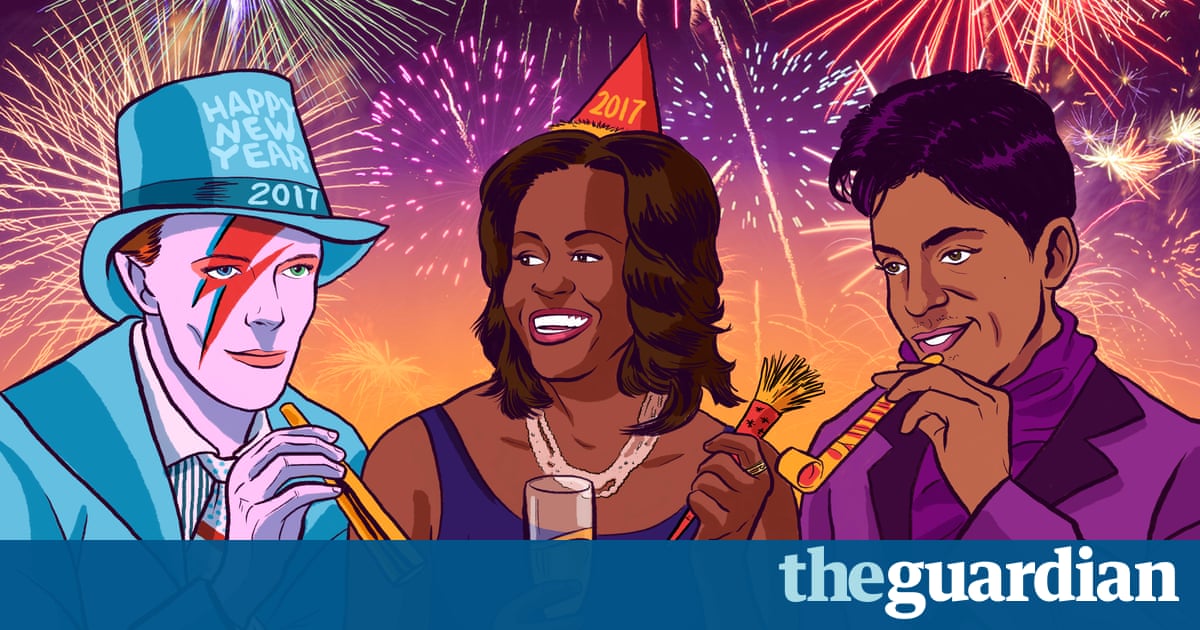 Happy New Year, guys that last one was crazy. A lot happened, much of which we might like to forget. But it is said that in order to imagine the future we must remember the past. So grab a bottle, and lets sing Auld Lang Syne to the heroes and the heroic casualties of 2016.
To Michelle and Barack Obama, two living angels. If my Republican parents pressured me to list all the positive changes youve implemented since taking office, I could probably only name a few but when you give speeches, I feel like the world is changing right in front of me.
To Janet Reno, whom SNL made fun of for being unmarried and childless, and whose PR guy was then forced to release a tragic statement saying: [Janet] has a great many friends whose homes she visits, and she goes to plays, her dance card is full. Keep dancing in heaven, girl. (Also, thank you for saying that sex education should also teach kids about masturbation it was a crazy thing to say in the 1990s.)
To Brexit, thank you for warning us that Donald Trump would probably be president. Im sorry that we didnt listen.
To Prince, whose kiss I always wanted: I like to think you and Janet Reno are dancing with the dinosaurs under a shower of volcanic, purple rain.
To the American Dream, that notion of inclusivity and progress and independence, which inspired so many people to come to the US from so many other places: may the wall thats slotted to be built over your grave come crumbling down under an acid piss storm of haunted, purple rain.
To Obamacare: thanks for covering my ass when I was 26 and broke. Because of you, I didnt take that horrible consulting job which would have entailed drafting daily, 50-page research proposals on how companies could improve cafeteria efficiency just to get the health insurance, and instead followed my writerly dreams of one day writing stupid lists like this one.
To common decency, whose pussy was grabbed until it punctured and deflated: as someone whos lacking in scruples, I never learned to appreciate you until it was too late.
This is getting sad, so how about pouring one out for LeBron James, alive and well? Nobody thought the Cavaliers would win, but they beat the Golden State Warriors, reminding us that underdogs can sometimes take the crown.
To Simone Biles, because when you popped over that vault, I was like, Nothing Ive ever done has actually been cool, and Im witnessing a miracle, and How could we ever really allow ourselves to freak out over humanitys future when it turns out girls can literally fly?
One big drink for feminism, which was once a thing, and has now been burnt at the stake like a witch, while infighting ensues about which group of women is most oppressed: may you rise again from the grave in 2020.
To Hillary Clinton, my hero, my heart, my favorite witch: after a lifetime of working hard, you became the tragic punchline of our nations sexism. May you continue to walk your designer poodle mix in the hills of Chappaqua like a forest queen, and watch over us as we toil in our despair.
To David Bowie, whose beauty and talent and refusal to quit signified something beyond words: your passing brought us together in sadness and silent adulation. If you see Feminism in that labyrinth of heaven, please say hi to her for me.
To Kate McKinnon, ghostbuster of my emotional demons: when you wore that white suit and played Leonard Cohens Hallelujah at the piano after the election, I got very verklempt. I liked to imagine that Clinton had a sense of humor about this whole thing. She probably does, but well never really experience it except via the projected and cathartic fantasy of your performances.
And to Nasty Women everywhere, who have been burned and divided, cut down by the patriarchy and also by one another other: we rest, but not in peace.
Raise a glass.
Read more: https://www.theguardian.com/lifeandstyle/2016/dec/30/2016-toasts-year-in-review