Rupert Murdochs former wife makes her documentary debut with Cai Guo-Qiangs Sky Ladder, about the Chinese artists fabrication of a 500m pyrotechnics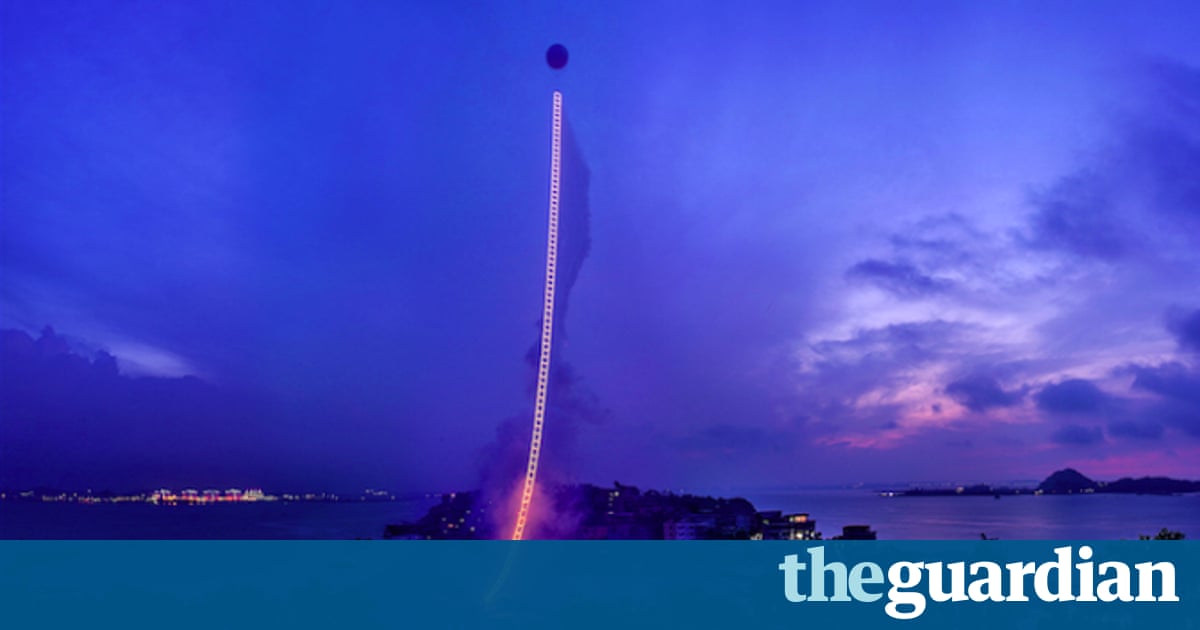 In June last year, Chinese artist Cai Guo-Qiang lit the fuse on a 500-meter ladder of fire that rose above Huiyu Island Harbour, Quanzhou, in Fujian province. The ladder was the culmination of a childhood dream and more than 20 years of pyrotechnic ambition, having devised but failed to complete similar ladders in Bath, UK, in 1994; Shanghai in 2001; and in Los Angeles four years ago, when the attempt was shut down by authorities as a fire hazard.
The New York-based artist claims in a new Netflix documentary about the making of Sky Ladder that there is no success or failure in art. This final installment of the project was offered more in tenderness than abstraction or ceremonial grandeur.
Days after the project completed, Guo-Qiangs 100-year-old grandmother with whom he maintained a close relationship stemming, at least, from his earliest experimentation with his established artistic medium, gunpowder passed away. Its important to know when to set the fire, but also important to know when to put it out, she once wisely advised him.
This project is one of those that I wanted to attempt since I was a young boy and wanted to touch the clouds, the softly spoken Guo-Qiang told an audience in New York last night. I thought 500 meters could reach beyond the clouds to heaven.
The documentary attempts a deeper explanation of Guo-Qiangs work. Few other Chinese artists have been so overtly willing to take on Chinese government-sponsored projects: he was named director of visual and special effects of the Beijing Olympics in 2008; and later put on a display for world leaders at the Apac conference.
But while Sky Ladder was constructed and ignited without Chinese government approval, it was not intended as a political statement avoiding official involvement was a matter of practicality rather than anything intrinsically political in the work itself.
His art is not political, explained documentary producer Wendi Deng Murdoch. He doesnt want a political agenda. So he works with the Chinese officials, but he doesnt want his art to be political. He wants it to be enjoyable.
Rupert Murdochs former wife, lately reported to be glamping with tech neo-hippies at Burning Man and holidaying with Ivanka Trump, has staged a high-profile, post-divorce comeback in the arena of arts and technology.
I love art, I love China, Murdoch says, and I love fireworks because they mean good luck.
Her relationship with the artist dates back almost 20 years. Cai and I became good friends when we lived as neighbors in SoHo. Hes really mastered the technique of making art with fireworks and to use gunpowder to make art so I wanted to show the world how wonderful he is, and to help people understand China better on a cultural level.

In the making of Sky Ladder, she explains, they avoided getting permits from the government not because Sky Ladder is itself political but because any large-scale project requires going through a frustrating bureaucratic process. The 400 or so islanders kept quiet about the preparations.
During the making of the film you cant always get what you want, but thats not just in China, says Murdoch. In Paris, when we did One Night Stand, you also have to get permits. Its not so easy.
The documentary, directed by Kevin Macdonald, does a serviceable job of explaining Guo-Qiangs background as an artist his father was a calligrapher and the family were forced to burn their books at the start of the cultural revolution but theres a disconnect that mirrors a dilemma in Guo-Qiangs work, namely: is the beauty of his momentary, staged firework spectacles enough?
No art is meant to be kept forever, he explains. So I attempt to achieve a sense of eternal from the ephemeral.
Though Sky Ladder may be complete, the artists said his journey of trying to dialog with the unseen world does not stop.
Sky Ladder is No 20 in my series, Projects for Extraterrestrials. Its a series that includes extending the Great Wall of China for 10,000 meters that are all attempts to dialog with extraterrestrials because the light thats emitted from the explosion continues to travel in space.
Read more: https://www.theguardian.com/artanddesign/2016/oct/06/wendi-deng-murdoch-sky-ladder-cai-guo-qiang